Attention: What we're about to share with you will allow you to get better rankings - and faster - and best of all it will help you remove the biggest obstacle to successful SEO (more on that in just a minute). How would you like to...
"Get targeted and consistent backlinks
without writing any content, finding
link partners, purchasing pricey
subscriptions, or anything else - just
push button simple automated link building!"
... and do all of this in a completely Google-friendly way...
We all know the importance of linkbuilding to your rankings. Nothing gets you moving up the SERPS like loads of incoming one-way backlinks. The problem is that when you're just getting started, SEO can be a complicated and expensive endeavor. There are tool subscriptions with monthly renewals, content to create or purchase and then the time of actually doing the work.
Now, there is nothing wrong with any of that - it all works and we do it ourselves. We have more tool subscriptions than just about anyone, but we have the luxury of owning an SEO and content creation business - something most people don't have. So we wanted to create a product that could meet the needs of the average Joe.
Are you...
Tired of trying to find an affordable and effective SEO solution?
Tired of buying every new product under the sun just to find one that works?
Fed up with low quality foreign outsourcing solutions that don't produce results?
Have you bought eBook after eBook all promising to show you the magic formula for just $77 - yet you're no better off than when you started?
Learning SEO yourself, but want to ensure you get results as well?
...about to just give up on SEO because you can't quite seem to figure it out?
The fact of the matter is that a couple of years back we were in the same boat and know exactly the issues you're facing (maybe a little too well - LOL). We decided that although we had a lot of high-end SEO packages available to our larger clients, we needed something that was economical enough for someone just getting started - a starter package that was automated.
Remember up above when we said that this product would
help you remove the biggest obstacle to successful SEO?
Well, here it is. Unfortunately the biggest obstacle to successful SEO is generally.... drum roll please... wait for it... YOU! Hey, sorry, we just tell it like it is - no insult intended. The problem is that most people have great plans but fail to execute them. It's hard to take action on a daily basis - that's why automation is the key to SEO success!
Click Here To Claim Your Seat and
Start Generating Increased Traffic Today!
We've seen it time and time again via our content business. People purchase huge article submission packages and never follow through and submit them. Or abandon their do-it-yourself SEO efforts after 30 days without results. Or just don't have the time, despite the best intentions...
That is why we designed this product to be 100% automated. For it to be truly effective we knew that we needed to put the entire SEO process on autopilot, but more than that, we also knew that it...
Had to actually deliver measurable results...
Needed to be reasonably priced so that anyone could afford it...
Needed to provide documentation of the work performed so you'd be confident...
Had to mix things up each month and vary the SEO being performed so that after a couple of months the progress would not fade away...
Needed to offer room to grow as your needs increased...
Needed to be designed to solve those same issues that we first faced when we were starting out... Consistency - Effectiveness - Affordability.
With AutomatedLinksOnTap.com we give you ALOT!
A (automated)...
L (links)...
O (on)...
T (tap)...
Sorry - we couldn't resist... - LOL...
"Another secret to SEO is to MIX IT UP
and diversify your backlinks..."
Search engine optimization is not rocket science. As we've said above, one of the main keys is to be consistent. But you also need to mix things up and have a wide variety of link types.
Using a single network or tool month after month creates a linkbuilding profile that is unnatural and in time your rankings will suffer. But buying several different tools and subscriptions gets pricey...
But don't worry - we take care of that for you!
Each AutomatedLinksOnTap.com package features the following:
Diversified Article Distributions - The key here is diversified and what that means is that these article post links will come from continually new domains each and every month. This is great from the Search Engine's perspective because it shows that you're attracting new links from new sites each month. These will vary from 50-100 or so distributions per month.
Social Bookmarks and Directory Links - By now you should know that social media bookmarks create a buzz and they can generate buzz for your site as well. Social proof is important to show the search engines that people are interested in your site. That's why we include them in every package each month. You will recive at minimum 100 directory links and 50 social bookmarks per month.
High Authority Links - Which is better, quality? or quantity? Well the fact is you need both. That's why we throw in links from our high PageRank (PR2 thru PR6) private network each month as well. We own these sites and this network is very clean with no duplicate or spun content allowed, aged domains with lots of authority, PR2 thru PR6 domains, and all hosted with a unique Class-C IP for every single domain.
NOTE: Quality is of the highest standard - these are contextual and permanent links, not some crappy blog roll or footer links - and every single posts is 100% unique content written for your site and keywords fresh each month. Furthermore, because it's an internal private network, your posts will stay on the homepage sucking in all of that PR juice for weeks instead of hours.
SEO Press Release - You'll also receive a custom written SEO optimized press release and distribution to 125+ sites each and every month. Press releases are a terrific way of increasing your site exposure as well as picking up loads of backlinks via syndication. See for yourself here (opens in new window) - this is a live example of an SEO press release we did using these exact same methods. Look at how widely it was picked up in Google - showing over 1500 indexed results!
REAL Blog Comments - These are not some automated blog spamming machine just spewing junk comments out there. These are real blog comments, left by real peopel on on real blogs that are niche relevant and that are engaging to the blog being commented on. We have a very high approval percentage with these, well over 75% approval. We will drive at minimum 50 real blog comments a month for each of these campaigns, which shows great interaction with niche relevant sites within your industry.
Doc Sharing - We will create a unique document for your website and post them to 25 of the top document sharing sites on teh web. This will aid in diversification and attracts backlinks from high authority websites.
"Trust is earned, and that's exactly why
we are 100% transparent..."
We believe that we have to earn your trust and so should any vendor. For that reason we provide you full copies of all of the content created for your SEO campaign - the high authority blog posts, the social media posts and the press release (if purchased).
You can use it for various purposes - to verify that the work was completed, to use it for other SEO endeavors, to search for the links yourself in the search engines or any other purpose you see fit.
Click Here To Claim Your Seat and
Start Generating Increased Traffic Today
You'll also get a full report of all of the links we create for you via the social media marketing campaign as an Excel spreadsheet as well as a full listing of the 125+ sites we submit to for the Press Release (if you purchase that package).
"SEO should produce results so to monitor & adjust your campaign's performance
Rank Tracking is crucial"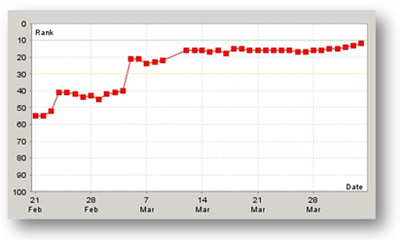 Most of our SEO clients have been with us for many months - some over 18 months. That doesn't happen by accident.
It is our core belief that we need to produce results for you and real results are monitored via rank tracking. Now, we can't take responsibility for your site making money, but we can get you the traffic - the rest is up to you.
So, what we do is we create an account for you on our online tracking system where you can baseline your keyword performance from the day you started and track your progress.
We're not trying to hide - we want you to be able to login and see your reankings on a regular basis and see results. That way we know when it makes sense to change up the keywords in the coming month's renewal or reduce or add keywords as appropriate. The only way you know that is to monitor it.
"Can't I just do this all myself?"
Remember, this is the NO BS Zone, so we're not going to play any games here. Yes, you absolutely *can* do this yourself, but the question is "why would you want to?"
You'd have to...
Write all the content yourself or pay for it to be written - We have an entire staff of full time writers that can automate this tedious content creation for you and, best of all, by purchasing in these packages you're getting that content for bottom dollar pricing.
Manually distribute it - Those 125+ sites we send your custom press release to each month? Yeah, those. Well guess what, those are manually submitted! Many of those sites are not even accepting new accounts, so even if you wanted to manually submit to all of them (a laborious process) you wouldn't be able to!
Purchase over $418 worth of tools - Doing it yourself just doesn't make sense because of the high cost of the tool subscriptions. They only begin to become affordable when you purchase them in large bulk - something we can do as an SEO provider. Furthermore, if you were to purchase on your own, you would likely purchase subscriptions to lower end networks, not the ones we are paying thousands of dollars every month to. So your results would also be reduced. And don't forget all of that content you would still need!
Do it yourself or hire a team - We pay out nearly $15k a week in salaries to our dedicated staff of writers, linkbuilders and managers. Do you really want to try and do that all yourself? Worse yet, do you really want to try and build your own team?
Spend months testing - It took us over 10 months of testing and refinement to get to the point where we could have a package that performed this well at this price point. It's no small feat to do all of that testing and experimentation - it's also not cheap!
ACTUALLY DO IT! - As we've mentioned above, one of the biggest failures of most do-it-youself SEO'ers is that they simply are not disciplined enough to do it every day. By letting us do it for you, this stress is removed and you can focus on running your business, not trying to learn something you're likely never going to have the time to become truly proficient at.
So yes, you can do it yourself, but unless you're prepared to invest a few months and a few thousand dollars in testing, we can assure you that you won't be able to get the same type of results for anywhere near these prices. Even then, you'll need to be spreading the costs across at least 20 or 25 sites for it to be cost effective. The reason is simply that some of these tools and/or network subscriptions will cost thousands and are only economically viable when you scale up to big numbers.
All of that is not even factoring into the equation that some of these resources are our own private resources. The High PR network, for example, we own and manage ourselves. That takes tens of thousands of upfront investment, several months to build and thousands per month to maintain.
Fortunately, we've got you covered! We even have some "extras" for you to sweeten the pot...
Seen enough? Click Here to Get Started Today
Linkbuilder Diversified - $397
Daily Stream of Article Distribution Links
Approximately 50-100 per month
Social Bookmarking Links
Approximately 50 per month
Directory Links
Approximately 100 per month
30 High Powered Links
PR2 thru PR6 Private Blog Network
Real Blog Comments
Approximately 50 per month
Document Sharing
Approximately 25 per month
Custom Written Monthly Press Release
Distributed to 125+ Sites
Online Rank Tracking Access
Just $397 every 30 Days!
NOTE: There is no such thing as typical results when it comes to SEO. Every site is different. Every niche that you're competing in is different. Comparisons of keywords and their difficulty to attain rankings are different. In other words, these are some results that some of our clients have had but they are in no way any guarantee that you will have the same or similar results. The fact is that no one can guarantee SEO results and if they try to, you should run for the hills...
Check out these results for yourself...
We first launched this product as an internal promotion so that we could track and observe the results our clients were getting with these packages. We were very pleased with the outcomes and are sure you will be to. In fact all of these results are just from the first month of service alone...
Keep in mind, none of these are shooting straight to #1 over night and you should not expect your site to either. However, what you'll see demonstrated in these performance charts is that there is solid progress in a short time frame (all stats are from approximately 20 to 25 days of SEO effort).
Example #1
This first client didn't even follow our suggestions and used far more keywords than we recommend, yet still had great results...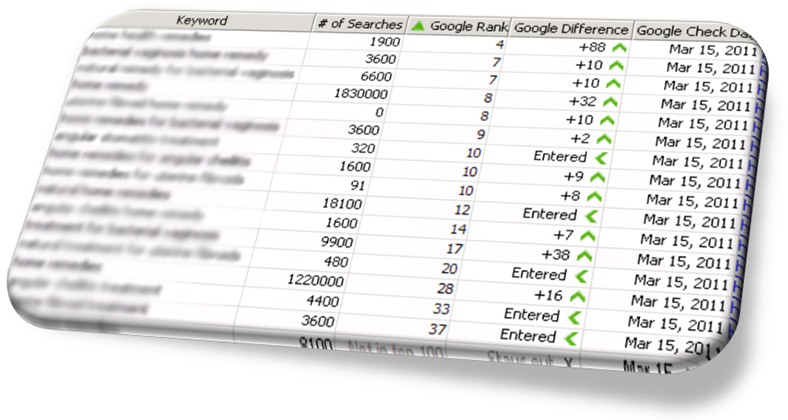 Example #2
This client has also made significant progress in just the first 25 days of SEO...
Seen enough? Click Here to Get Started Today
Example #3
Again, great results here as well - are you spotting a trend?

Example #4
Here you can see that this client started much further back in the pack. The 'Entered' text means that when this campaign started, that keyword was not even ranking in the top 300 results.
Example #5
In this example you'll see that the progress has not been as pronounced, but sometimes that's the way it goes - every niche and every site is different. To tell you otherwise would be pure fabrication - not our style.
Example #6
So this one doesn't look so good. Why in the heck would we include this?

Because quite frankly we don't like sales hype and firmly believe in 'candor'. The site in the chart above is a brand new site - fresh domain, zero links - completely green.
We are very candid about the fact that new sites may take as long as three months before they show progress. Google has really tightened the reigns on new sites, and depending on the niche, it can take awhile to get them moving.
We're not trying to hide that fact from you, on the contrary, we want you to be very aware of this from the beginning so that you don't have any false expectations if your site is brand new. It's just gonna take some time.
But... the sooner you get started, the sooner rankings will start coming... and the beauty of these AutomatedLinksOnTap.com packages is that they are very affordable - so what are you waiting for?
Click Here To Claim Your Seat and
Start Generating Increased Traffic Today
Example #6b
So, here's the update for #6 just a couple weeks later...

Getting brand new sites to perform well is getting tougher and tougher. The fact is Google is really looking at the linkbuilding activiy on new sites and you've got to be patient. If you think about it for a minute, it makes sense. It's not realistic for a brand new site to start getting tons of links right out the gate - it takes some time.
The two images above - Example #6 and Example #6b show you what happened recently for one of our clients that started out with a brand new site. The first month not a single keyword was in the Top 1000 and in the second month some rankings in the Top 100 began to appear. Keep in mind, that we've seen other sites that have taken three or even four months to get Top 100 rankings when they're brand new. You just have to be patient and not force things. Too much linkbuilding too soon can be a big red flag on your site and may prevent you from getting ranked for a very long time.
Now we could go on and on listing our clients performance stats, but we'd fill up this page with chart after chart - and that doesn't do you a lot of good. You can see from this sampling of rankings, however, in less than 30 days of SEO the majority of these sites have responded very, very well.
Just as important, you can see that we're being straight up with you. We didn't just pick the creme of the crop - we selected a sampling that is more typical of our various clients. Getting a sale is great, but not at the price of risking our reputation - Mike and I have worked far too hard for that. Straight to the point, call it like it is and absolutely NO BS - that's what you can expect.
NOTE: There is no such thing as typical results when it comes to SEO. Every site is different. Every niche that you're competing in is different. Comparisons of keywords and their difficulty to attain rankings are different. In other words, these are some results that some of our clients have had but they are in no way any guarantee that you will have the same or similar results. The fact is that no one can guarantee SEO results and if they try to, you should run for the hills...
Check out what our clients have to say...
But don't take our word for it, take a look at what those who have worked with us have to say. Whether you're looking for advice on how to do it yourself, suggestions and help picking the right tools, content for your website or full service SEO solutions - we've got you covered.
A 6 Month Client says
Mike and Troy,
I've been an Automated Links OnTap customer for 6 months so far. Previously we had used a local SEO consultant and have also spent significant time and effort link building ourselves - however due to the success of the automated links on tap package we no longer do any of our own link building at all.
In the 4 months we've been a customer we have updated our target keywords twice after some of our search terms got to number 1 within just 2 months and others have seen significant improvement (we're a very competetive market mainly targeting tough keywords, so this is no easy feat).
Due to the results we've experienced and the transparent and in-depth reports we receive I have complete confidence in the AutomatedLinksOnTap.com package and have no hesitation in recommending your service - in fact I have already done so many times.
Thanks!
Steve R, Managing Director

We're now making over $5,000 a month with double the traffic
Mike and Troy,
Just an FYI. My site has made significant progress since I read your eBook and had you do an SEO analysis. One of the things you said should happen is that I could be making $5,000 a month and in March we exceeded that number and we are growing in every category. I think we were averaging about 60 people per day at the end of December and now is about 150 and we have been over 200 twice.
Our percentage of search engine traffic has almost doubled.
Thanks for your help and I continue to read your newsletters.
Thanks!
Paul D.
I'm glad I found you guys!
Mike and Troy,
I've always been cautious about the many over inflated SEO claims being made on the internet so I was a little skeptical when I came across your site. But, after making several purchases of articles from ArticlesOnTap.com as well as signing up for the Linkbuilder Pro package, I've been not only impressed with the results I've seen but also with the outstanding customer service you provide.
You guys always have a friendly and helpful response to any question I've had within a couple hours. It is obvious you are very concerned with customer satisfaction.
I signed up for the Linkbuilder Pro package for a brand new website and I have seen a steady climb in the number of indexed backlinks from the work you are doing. The "High Powered Backlinks" are just that and my backlinks seem to stay on the home page of these high powered sites for over a month.
My website moved into the top 100 for most of my targeted keywords in little over a month and I'm seeing my traffic coming from organic Google searches increasing.
I'm glad I found you guys! I have already recommended you to my friends and will be getting more of your products in the future.
Thanks!
Jack P.
Great eBook
Hello,
First of all I'd like to thank you for the value you have provided - I spent a day reading your website, ArticleSubmissionReview.com and then a day reading your ebook. I no longer feel so overwhelmed so thank you!"
Thank You,
David Hawkins
Newbie Friendly
You Guys are the Best. I'm a really green newcomer to internet marketing and have been drowning in the amount of 'stuff' out there.
You've managed to unclutter so much info, answer so many questions and have given me hope that it is possible for someone like me to actually make a few dollars at some point in the future.
All of this in English for those of us living in the real world and not in cyber language which confuses newbies even more. And, this is the best bit, it's FREE.
Thanks a bunch
Patti
Refreshing Integrity
While I read the Intro and part of the first chapter of your eBook, what really attracted me most is your style of writing. Unfortunately and sad as it may seem, integrity is in short supply these days and has been for quite some time.
Needless to say, it's refreshing and not often I may add when someone comes along such as you and Troy to write/offer information without all the B.S. This in essence is what prompted me to write you.
Enjoy,
Marty Potokar
Click Here To Claim Your Seat and
Start Generating Increased Traffic Today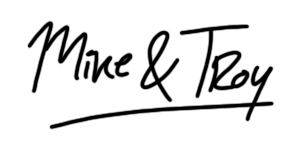 Mike & Troy
TopMarketingStrategies.com
ArticlesOnTap.com